"Suspenders"
$

125.00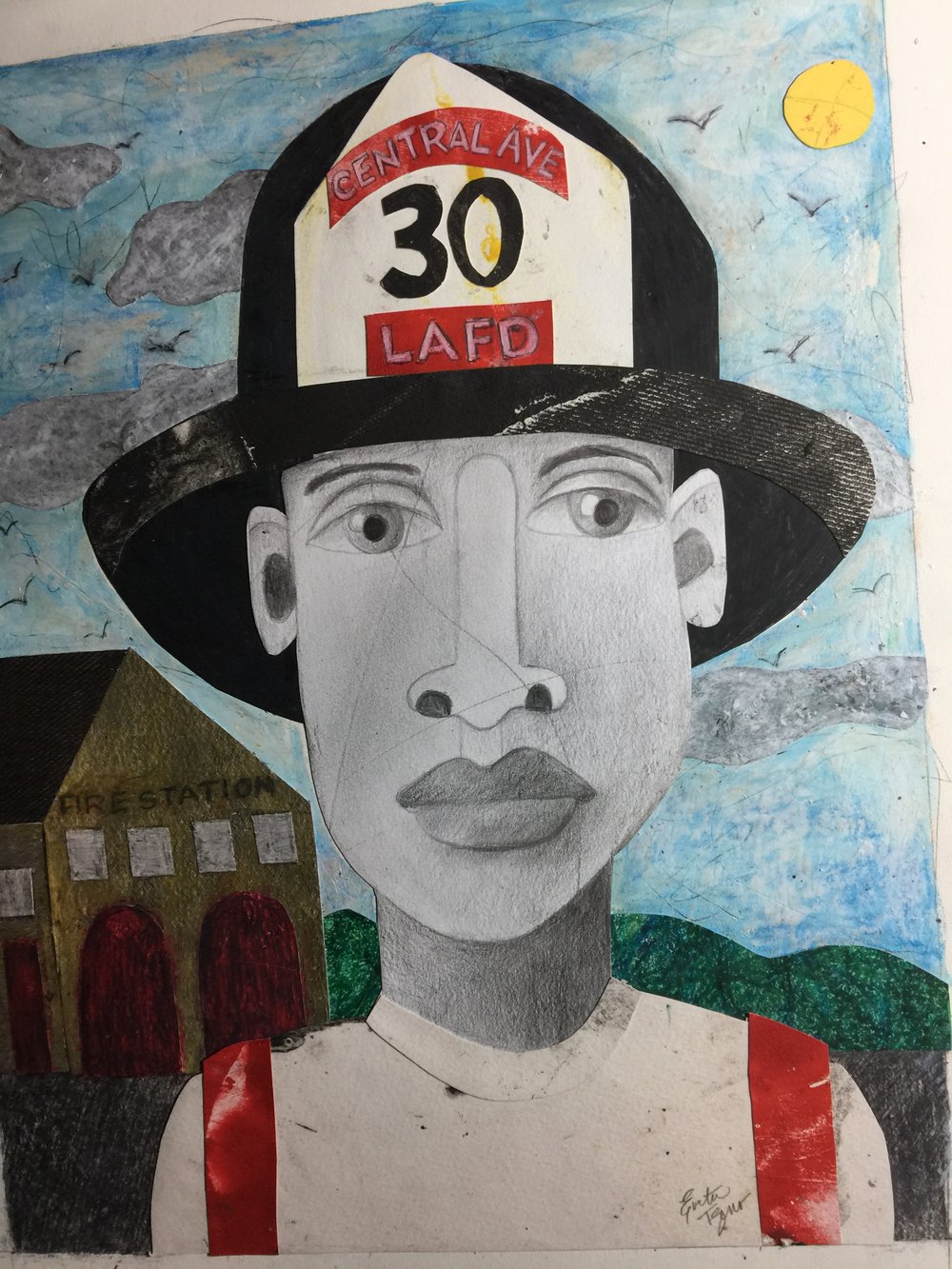 Signed and numbered limited edition of 250.
Evita Tezeno seeks the pleasures of life through the eyes of visual expression. Her exuberant passion for life leads her to explore the human experiences related to childhood memories and life's encounters, Using bright colors, soft hues and bold figures, Tezeno crafted visual stories, by the use of hand made papers, crayons and other mediums, that evoke smiles, joy and thoughts of yesteryears."
Tezeno spent her developmental years in Port Arthur and Beaumont, Texas. A graduate of Lamar University, Tezeno received a B. S. in Graphic Design. Her natural aptitude for balance and design can be seen in every aspect of her work. The art of this woman, both reveres and celebrates traditional values reflected in her culture and recollection. Evita Tezeno, the artist, lives the life she paints about.
Her painting "Big Band", which depicts a female singer accompanied by a trio, became the official poster of the 1999 Essence Music Festival held in New Orleans. Chosen as the first female artist for the New Orleans Jazz and Heritage Festival, Tezeno's work also graced the 1999 commemorative poster for the "Congo Square" section. 2008 initiated a new era when Evita Tezeno was featured in Dennis Forbes book "Studios and Workspaces of Black American Artist." Her piece was featured in "Collaborations Two Decades of African American Art", a Hearne Fine Art Gallery publication. Tezeno's art is displayed in a number of regional and national television programs and newspapers, and well known magazines such as Upscale and Valentine NY. Accolades include, The Elizabeth Catlett Printmaking Award and Finalist in the Russell Simmons, Art Basel Competition.
Evita Tezeno
Exhibitions
2014 Memories from Yesterday
Peg Alston Gallery
New York, New York
Solo Exhibitions
2012 New Power Generation 2012
Hampton University Museum
Hampton, Virginia
Juror: Myrtis Bedolla
Elizabeth Catlett Printmaking Award
Group Exhibition
2010 Our Common Bonds
Gallerie Myrtis
Baltimore, Maryland
Juror: Mytris Bedolla
Group Exhibitions
Juried Art Student Exhibition
Brookhaven Community College
Farmers Branch, Texas
Purchase Award
Group Exhibitions
2009 Juried Art Student Exhibition
Brookhaven Community College
Farmers Branch, Texas
Honorable Mention
Group Exhibitions
2007 Celebration Our Heritage in Artistic Tribute to Black History
Southern University Museum of Art
Baton Rouge, Louisiana
Group Exhibitions
Celebration Our Heritage in Artistic Tribute to Black History
Tangipahoa African American Museum of Art
Baton Rouge, Louisiana
Group Exhibitions
Celebration Our Heritage in Artistic Tribute to Black History
Southern University Museum of Art
Baton Rouge, Louisiana
Group Exhibition
Share